Courses for Beginners are aimed at the beginners aged 4-12 years. The trainings take place twice a week.
Swimming Courses are for the more advanced swimmers up to 18 years of age; for those that have completed the Course for Beginners or have mastered the basics independently, and are interested in improving the skills twice a week.
Members of the Sport Groups are selected from the participants of various courses. We also welcome members of the sports groups from other clubs. The trainings take place at least four times a week.
KALEVI UJUMISKOOL
Why prefer us?
Swimming School Kalev has a long standing history and has been home for the most of the Estonian highest ranked swimmers and continues to train promising future generation swimmers. The School has 1,000 members and we are like a family – we support each other and stand for the highest values and sportsmanlike behaviour.
The School supports families with multiple children! If two children from the same family enroll, the course fee for one child is reduced 50%. If three or more children train, then one child trains for free. If multiple kids from the same family train in the Sport Groups, the fee is paid only for one child.
Swimming School Kalev offers private lessons for children and adults, given by professional and certified coaches. There are three different participation options. 
PRIVATE LESSON WITH INTSTRUCTOR
Private Lesson with instructor is recommended for the children and adults who want to improve their skills. The Coach will determine your skills and will develop a tailored training plan. We recommend taking private lessons 1-3x per week to ensure consistent progress.
12× WORKOUT PLANS
12x Workout is targeted at those wanting to change up their swimming routine. Swimming can be very dull, especially when doing the same workout day after day. Our Coach will developed a challenging and fun workout plan focusing on the skills you want to develop. This option is recommended for those who can swim 2,000 meters or more during one training.
POPULAR
1× PRIVATE LESSON WITH INTSTRUCTOR + 12× WORKOUT PLANS
This one private lesson followed by 12x workouts is very popular option among our clients. In the first private lessons the Coach determines your skills and the technical knowledge. Based on that 12 different workouts are developed that will help you to become better swimmer. This course is recommended to swimmers who can swim 1,000-2,000 meters during one training. This is also a great opportunity for triathlon training. After 12x workouts the Coach evaluates the progress and developed a new workout plan.
Kristo has been the head of the School since 2009. He is great in addressing the concerns of the children, their parents and the coaches. He has Master's Degree from the University of Tallinn and is level 5 Swimming Coach.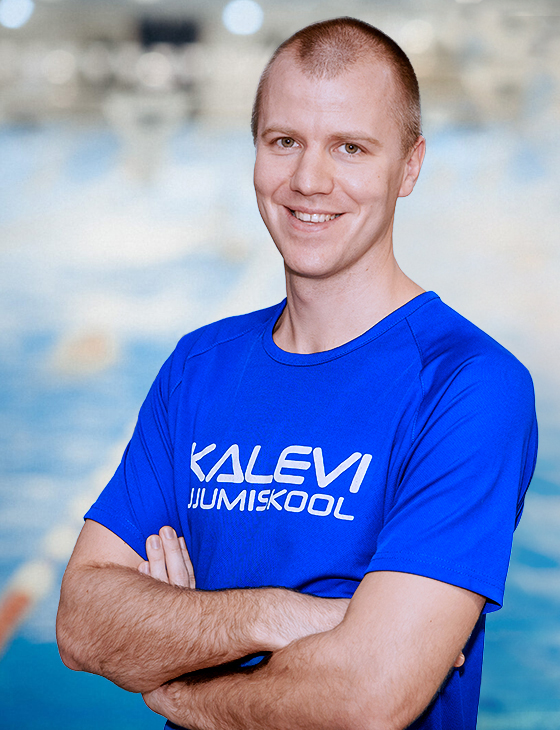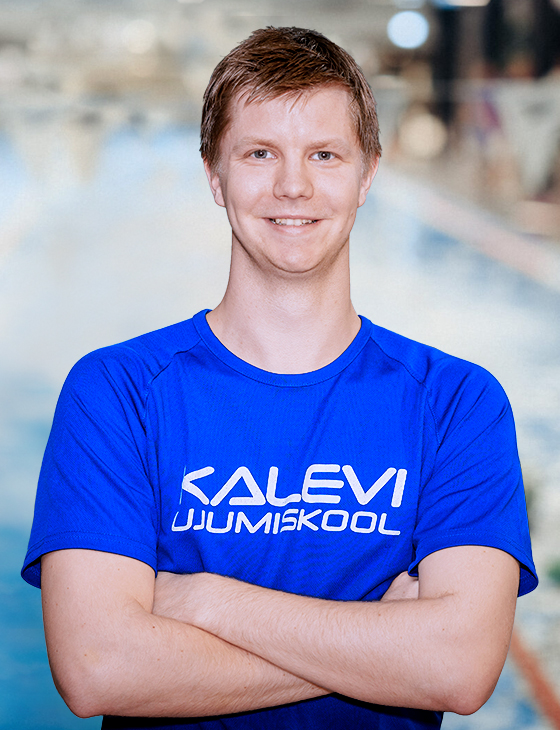 Roger Krinpus
Administrative Head
Roger knows all what is taking place in the School, he has great overview of the invoices, Sportlyzer usage and competitions. He has Master's Degree from Tallinn University of Technology. Roger has been the Administrative Head since 2011.
Want to read our website in your native language?
Google Translate can help you with that.  You can browse an entire website in the chosen language:
Open a web browser and go to translate.google.com.
In the text box on the left, type http://ujumiskool.ee

On the right, choose the language you want to see the website in.

Should Google Translate fail to pass you our information in understandable way, we are sorry, and feel free to contact us.